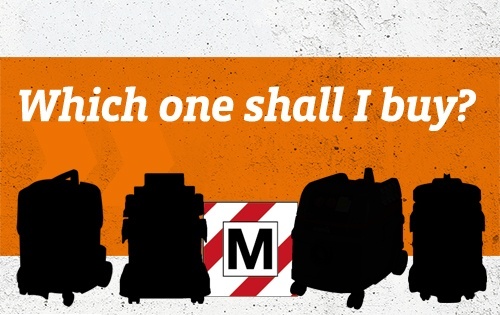 With the recent rise in Sites and Companies insisting on M-Class extraction as a minimum, we have seen a big increase in inquiries and purchases from companies and individuals who now need one as part of their standard tool kit. With more and more options becoming available, we're set out to highlight the top 5 things you need to consider before purchasing an M-Class vacuum/extractor to make this choice easier.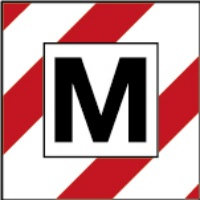 1/ Brand
We recognise that trying a brand that is not well known can be daunting, so we've set out to provide you some information you'll need to consider, in view of helping you to understand what to look out for as important other than just the name on the outside, after all it's what's inside that counts along with the M-Class label on the side!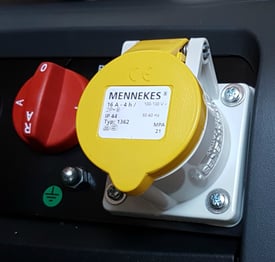 2/ Power Tool Socket
The principle of plugging in your tool to the extractor so that it comes on when you start your tool is brilliant however unfortunately due to restrictions with 110V power, consideration needs to be taken in regards to the tools motor and the power supply before using the power tool socket. If overloaded this can cause the extractor to burn out which can be an expensive repair. Whilst there are no fixed guidelines, when running the extractor off a 3.3Kva transformer only very small tools of approximately 800W should be run through the power tool socket. This is why some manufacturers supply their extractors with 32Amp plugs already fitted to encourage at least a 5Kva transformer (minimum recommendation even when used with 16Amp plug) or a 32Amp supply to be used. Some extractors can then accept up to 2000W through the power tool socket using these larger supplies. With the popularity of cordless tools, consideration as to the necessity of the power tool socket should also be given. Some brands extractors are quite a bit cheaper when supplied without the sockets.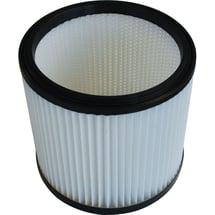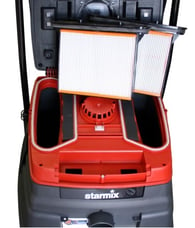 3/ Filter Type
The shape, position, and quantity of filters can help distinguish the quality of the tool. Whilst a standard circular type filter is more standard, a flat filter will perform better and save space in the drum to allow for more material to be collected. Machines will a flat filter will completely fill a dust bag as often round filtered machines don't. Some machines also come with 2 filters for an enhanced performance. These are particularly useful where the machine has an auto-clean function so that the suction of the machine is not affected whilst one of the filters is being automatically cleaned.
4/ Dust collection method
What we always get asked is can this tool be used without bags? The answer is normally vague as most can but the filters will tend to get very quickly clogged up affecting the performance and requiring regular cleaning which is not ideal. An extractor will always perform best with the correct dust bag fitted and will also save you time and money from having to clean out and replace the filters. Some machines can be fitted with re-useable bags however these are normally only effective when collecting large particles as very fine dust will block up the filter. As all M-Class extractors are fitted with some type of alarm when the filter is blocked or suction is restricted, it can be very frustrating when this goes off every few minutes. It's probably not what you wanted to hear but nevertheless an important consideration. There is also an argument that why go to the lengths of collecting 99.9% or particles to then shake the bags or drum out in a skip, breathing in all the dust collected!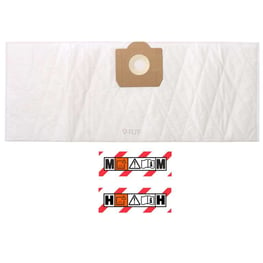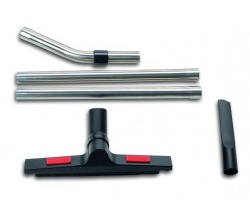 5/ Size
Depending on your application size can be important. For workshop use or applications where you're generating large chips or quantities of dust such as sanding or grinding, a larger capacity would be more useful. However, for site applications where you're moving around a lot doing bit and pieces, a smaller machine would be more convenient. The manufacturers state a capacity but this normally doesn't take into account the space the filter takes up, so real life capacity can be different depending on the shape and size of this. For example, a 25L extractor with a flat filter is likely to have a bigger capacity than a 25L extractor with a round filter.
6/ Price
Of course, we couldn't get away without mentioning price, although it's closely linked to point 1 here are some extra things to consider. To manufacture an M-Class extractor requires and lengthy and rigorous process to meet the very stringent requirements needed to carry the M-Class badge. This gives confidence that any tools with an M-Class badge are worth a consideration. What we find is that whilst the prices can range a lot in the M-Class range this is often due to the features and accessories supplied which is why it's important to understand what features are relevant and what ones are a necessary for your application. It could be that you don't need a Rolls Royce to get to work, a Ford Transit will do the same job for most and both will pass a MOT, or maybe you do in which case go for it!
Here at Freeway we stock 3 different M-Class machines with different specs and price points which we feel best fit our customer's requirements, please see below for a comparison on these three. Other spec machines are available to order if required.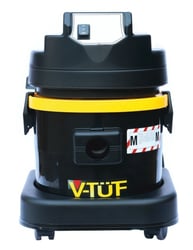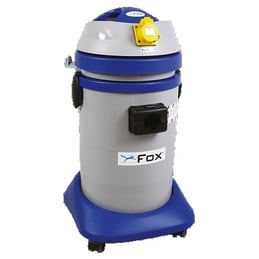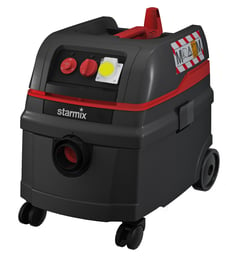 | | | | |
| --- | --- | --- | --- |
| Model | V-Tuf Vac M | Fox F50-811 | Starmix 1425M Pulse |
| Capacity: | 21L | 37L | 25L |
| Power Tool Socket: | No | Yes | Yes |
| Shape of Filter: | Round | Round | 2 x Flat |
| Motor Size: | 1400W | 1400W | 1400W |
| Made In: | Italy | Italy | Germany |
| Warranty: | 1 Year | 3 Years | 3 Years |
| Bags Supplied: | Disposable | Disposable | Disposable & Re-useable |
| Plug Supplied: | 16Amp | 16Amp | 32Amp |
| Accessories Supplied: | Hose, poles & tools | 2x hoses, poles & tools | Hose |
| Order Ref: | K04-194 | K04-193 | K04-187 |
| | | | |
For more information on the V-Tuff Click Here
For more information on the Starmix Click Here
We are able to take card payments over the phone and ship anywhere in England.
We trust you found that helpful. If you have any questions, would like to discuss your situtation or would like a quotation please use the form below:
Happy vacuuming!
Share: